Home >> Moving Company Articles >> Right way to Hire a moving company in California
Right way to Hire a moving company in California
Hiring a moving company is made easy. You can call us at 800-877-8867 to have background information your moving company their license details. You can file your complaints regarding the movers' service by calling us at 800-366-4782.
MOVER GUIDE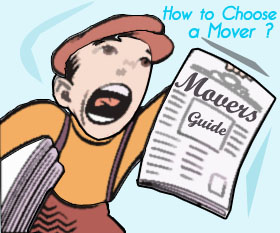 Important Information for Persons Moving Household Goods
The Public Utilities Commission has governing rules about the cost for your moving.
PUC's Maximum Rate Tariff 4 plans and other forms, documentation can be verified by shipper at the movers business place of PUC offices given below:
| | | |
| --- | --- | --- |
| SAN FRANCISCO | LOS ANGELES | SAN DIEGO |
| 505 Van Ness Ave. | 320 W.4th Street, Ste. 500 | 1350 Front St, Rm 4006 |
How to Choose a Mover
Choose a licensed carrier listed in Classifieds and ads.
Avoid contacting movers without Cal-T No. i.e. the license number issued by the PUC.
Collect the Company Name, Address, Cal-T No., and Telephone No. of the movers and verify with us by calling us at 1-800-FON-4PUC (1-800-366-4782).
Do not forget to get written estimates to compare the prices and services of different moving companies to help you select a carrier.
RATES & CHARGES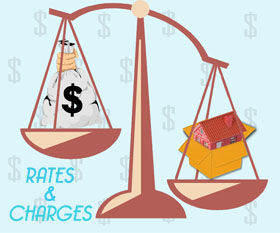 Maximum Rates
All rates and charges are subject to PUC-set maximums
Movers will issue a written estimate of total cost before three days prior to the move to indicate that maximum rates will be exceeded on the move.
Estimate & Cost
Get a written estimation from 2 or more movers to compare the price details. Remember verbal estimation is not binding.
Carriers must do a visual inspection of all your goods before calculating the estimation.
Inform about the special services (if required) before the cost estimation.
Carriers will charge based on weight or mileage basis for long distance moves (over 100 constructive miles).
Local moves (below 100 miles) will be charged hourly basis.

Carriers will have minimum charges. For example on hourly moves, a carrier may charge a minimum of four hours even if your move takes only two or three. Similarly, on distance moves, a carrier may charge for a minimum weight of 5,000 pounds. So, even if the total weight of your shipment is 3,000 pounds, you may be charged for 5,000 pounds.
Carriers will charge for packing and unpacking services, there may be an additional charge for elevators, and flights of stairs past the first floor.
Change Order for Services will be provided by the movers in case items added or request services not included in the estimate.
Not to Exceed Price must be prescribed by the movers before the move. This Not to Exceed Price must be written on the Agreement along with any minimums that may apply and specific details of the move.
MAKING THE AGREEMENTS
Inventory Report
Request an inventory report before the move. Inventory Reports includes list of items and their condition.
Sign the inventory and delivery receipts after delivery of your goods. Mark yours and movers inventory sheet with missing items (in case). This is essential while claiming your lost item.
Pickup and Delivery dates
Get a written note for pickup and delivery dates from your mover.
The carrier should notify you by phone or mail if time or date is delayed. In case of late delivery, the carrier should inform about the delay at least 24 hours in advance.
For moves over 75 miles / weighing over 5000 pounds, you may request the mover to pick up a shipment on an agreed date and deliver it within an agreed upon span of two consecutive days. If pickup is not made on the agreed upon date and delivery within two days of the agreed date, the carrier must pay you $100 per day for each and every day of delay. This is in addition to any other claim you may make.
Packing and other Preparations
Packing can be done by you to save money.
Avoid packing flammables and other dangerous articles. Defrost your refrigerators and freezers.
Make an agreement with movers regarding valuable properties such as jewels, valuable documents. It's better to avoid them in shipping.
If some damage caused movers to items packed by you, always save the box, the contents and the packing materials to facilitate claims handling.
Agreements for Moving Services
Agreement includes.
Carrier's name, PUC license number (T-number), address, and telephone number where you can reach him or her.
The address and telephone number where the carrier can contact you about the move.
The location where your goods are being moved.
The date of loading or pickup and the preferred date of delivery.
A summary description of the move (i.e., a general description of the items to be included or excluded and services to be provided).
The declared value of your goods.
The rates upon which the charges are based and any minimums the carrier may have.
The Not to Exceed Price, which is the highest charge that may be assessed for the various services to be performed, plus any additional charges requested on a Change Order.
The movers should complete the Agreements, sign it and give it to you before 3 days of the move. Not to Exceed Price is also included in the Agreement.
Weighing Your Goods
If charges are based on weight, the moving vehicle should be weighted by certified weigh master before and after loading.
Carriers should notify you the actual weight and cost by telephone of fax immediately after good are weighed.
Re-weighing can be done in case of any doubt regarding goods weight.
Re-weighing will not be charged if the two net scale weights 100 pounds on shipments weighing 5,000 pounds. If the net scale weight exceeds you will be charged for re-weighing.
YOUR PROPERTY
Protecting your Goods
Protection against possible loss or damage at 60 cents per pound per article is included in the carrier rate.
You can choose to obtain further protection and set the value on your belongings for an amount that makes you comfortable.
Protection levels are of 3 types - basic coverage, Actual cash value and Full value.
Basic Coverage at 60 cents per pound per article ensures recovery at 60 cents multiplied by the weight of the item or the carton it's packed in. This protection is included in the mover's rate
Actual Cash Value protection ensures recovery at the actual cash value of your lost or damaged item(s), up to the total value you declare. The carrier may charge for actual cash value protection, and will state the rate on the Agreement.
Full Value protection ensures recovery at the full value of your lost or damaged item(s), up to the total value you declare. The carrier may offer deductible in combination with full value protection. You are responsible for deductibles unless the mover loses an item, refer to the section on Limitations on the Carrier's Liability. The carrier may charge for full value protection, and will state the rate on the Agreement.
Liability of Valuables
Goods or items of extraordinary values such as gold, silver and art antiques should be clearly mentioned in the inventory with values described for each item.
It is better to avoid shipping high value articles and carry them with you.
Limitations on the Carrier's Liability
The carrier is not legally responsible in a claim for loss or damage to articles in the following situations:
Change in condition or flavor of perishables,
Loss or damage caused by the shipper, including improper packing,
Defect or inherent vice of the article, such as susceptibility to atmospheric changes,
Insects, moths, vermin, ordinary wear and tear, or gradual deterioration,
Mechanical or electrical derangement of musical instruments, electronic components or appliances, if there is no sign of exterior damage,
Damage caused as a result of any strike, lockout, labor disturbance, riot, civil commotion, or any act of any person or persons taking part in any such occurrence or disorder,
Hostile or warlike action in time of peace or war,
Breakage caused by normal handling of china, glassware, bric-a-brac, or other similar items, unless packed by the carrier, and
Liability of carrier for loss or damage shall be subject to your compliance with the rules for filing claims.
For more information regarding limitations on the carrier's liability, please see General Order 136-C, which you may get from the PUC.
If You Have Loss or Damage
If your goods are lost or damaged, be sure you illustrate such loss and damage by making notations on the carrier's shipping order or freight bill.
If the drivers refuse, you should report this detail and the condition of the articles in writing to the home office of the carrier.
If you intend to file a claim for loss or damage to your goods, be aware that one of the required documents in support of your claim is a copy of the paid freight bill. But you must pay the carrier for all charges due for transportation services. If you do not pay the transportation charges, the carrier my not honor your claim.
How to File a Claim
To file a claim you must:
Write the home office of the carrier and explain the loss or damage.
List the lost or damaged items separately.
Note the exact amount you are claiming for each lost or damaged item.
Provide the date of your move, the origin and destination and the carrier's order number.
Providing copies of documents such as store receipts for the lost or damaged items and professional estimates for repair will speed the processing of your claim.
Your claim must be filed, in writing, within nine months after delivery of the goods or within nine months after a reasonable time for delivery has elapsed.
If the carrier fails to respond to your claim within the time limits, you should contact the PUC immediately at 1-800-FON-4PUC (1-800-366-4782)
The PUC has no authority to force carriers to settle claims for loss or damage and will not undertake to decide whether the basis for, or the amount of, such claims is proper, nor will it attempt to determine the carrier's liability for such loss or damage.
MISCELLENOUS INFO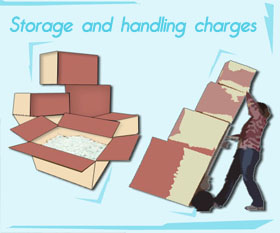 If you're New home is not ready
You can request for storing your goods in Storage-in-Transit for a period of 90 days or less. Separate rate will be changed for transportation from your old residence to Storage in Transit, and for transportation to your new home.
Storage and handling charges will be assessed for this service and it will be covered by the terms and conditions of your Agreement with the moving company.
If you do not request Storage-in-Transit, or if your storage period exceeds 90 days, your goods will be subject to rates, terms, and conditions set by the local warehouse and the service will be under a separate contract with the warehouseman and not regulated by the PUC.
Paying for your Move
You can pay your carrier in cash, by money order or certified check.
If you wish to pay by credit cards or personal check, make sure this arrangement is noted on the agreement.
Carriers must hand over your goods upon payment of total charge due; however, should these total charges be higher than the Not to Exceed Price or the amount of your written estimate plus the Change Order for Services.
If the driver requires payment of that amount, you should contact the mover about what may be an overcharge. If the matter cannot be resolved to your satisfaction, call the PUC for assistance at 1-800-FON-4PUC
Public Utilities Commission Offices
| | | |
| --- | --- | --- |
| SAN FRANCISCO | LOS ANGELES | SAN DIEGO |
| 505 Van Ness Ave. | 320 W.4th Street, Ste. 500 | 1350 Front St, Rm 4006 |
| 415-703-1402 | 213-576-7000 | 619-525-4217 |
California Moving companies :